BETTER OUTCOMES THROUGH CONTINUOUS DATA.
By combining proprietary AI and any wearable biosensor to continuously monitor patients where they live, physIQ is advancing medicine and enabling clinical trial sponsors and clinicians to:
Proactively detect physiological decompensations
Improve safety and efficacy of new therapies and speed time to market
Deliver personalized clinical interventions to improve patient outcomes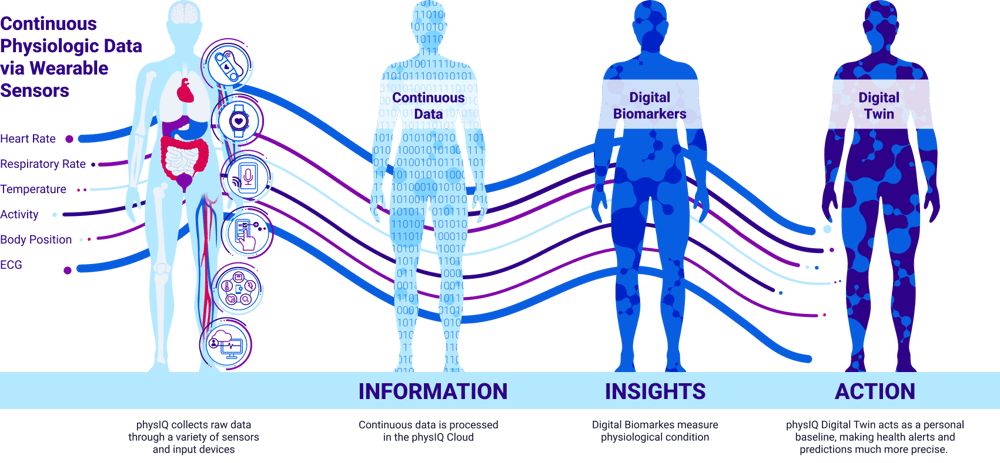 One Platform.
Infinite Insights.
physIQ is a preferred partner for healthcare providers and life sciences companies around the world.

For Life Sciences
physIQ helps leading pharmaceutical companies and CROs expedite clinical research and bring life-saving therapies to market faster. Our highly scalable, 21 CRF Part 11 compliant platform accurately monitors clinical trial subjects to:
Assess the safety and efficacy of drug candidates in decentralized settings
Accelerate regulatory submissions with FDA-recognized, real-world data
Gain a competitive market edge from pre-clinical to commercialization

FOR HEALTHCARE
For patients leaving an acute care facility, living with chronic conditions or recovering in a hospital at home environment, physIQ's medical grade platform arms clinicians with 24/7 insights to:
Follow and treat patients across the entire care continuum, including virtual care and hospital-at-home models
Avoid hospital admissions by alerting care teams to life-threatening events in advance
Engage and empower patients in their own care to improve disease management
VIEW FOUR DATA COLLECTIONS SIMULTANEOUSLY.
physIQ collects four types of data in near real time to develop a comprehensive view of patient health and make personalized recommendations.

Continuous Physiological
From ANY Sensor Device

Survey Data via ePRO
Interactive Questionnaires

Patient Voice Capture
For Voice-based Anomalies

Point Measurements
For Continuous Monitoring
Expansive Knowledge.
Unmatched Experience.
Remote monitoring is complex. physIQ understands every perspective.
INSPIRATION IN ACTION
The latest physIQ news.