Unrivaled Insights for Clinical Trials
physIQ is changing the way medical therapies are brought to market by leveraging the power of remote monitoring and A.I. technology
A complete physiological picture in near real time
See patient data like never before.
Four key data types on one patient-specific timeline, including date and time stamps.
CONTINUOUS PHYSIOLOGICAL DATA
Monitor, view, and analyze minute-by-minute ECG and/or PPG derived vitals captured by wearable biosensors on your patients' timeline.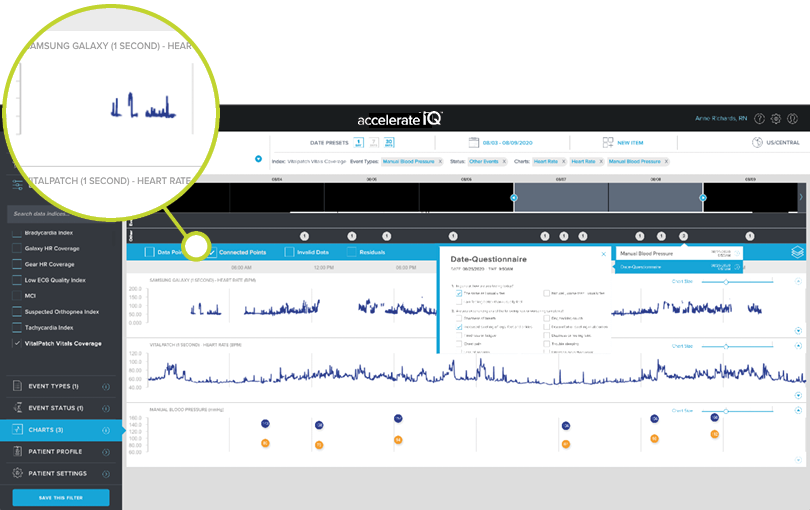 POINT MEASUREMENT DATA
Capture personalized vitals of patient-entered data into our point measurement solution using physIQ's mobile app.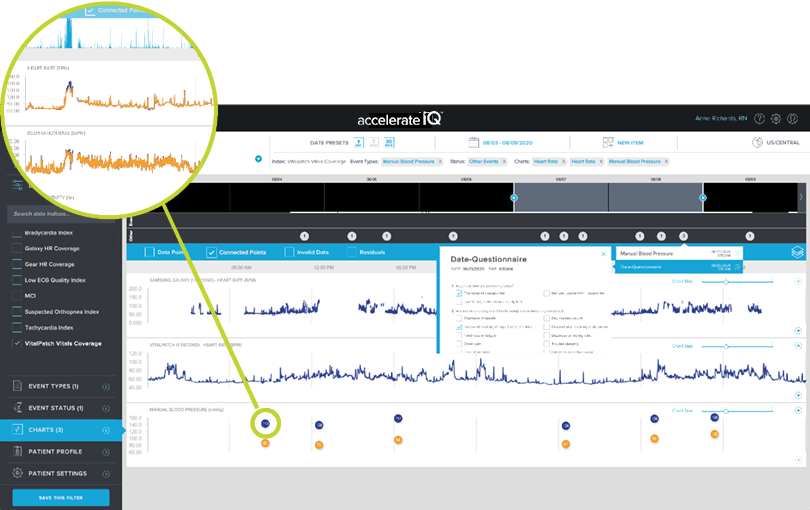 SURVEY DATA VIA EPRO
Collect data directly from patients using our survey functionality and review it on their personal timeline.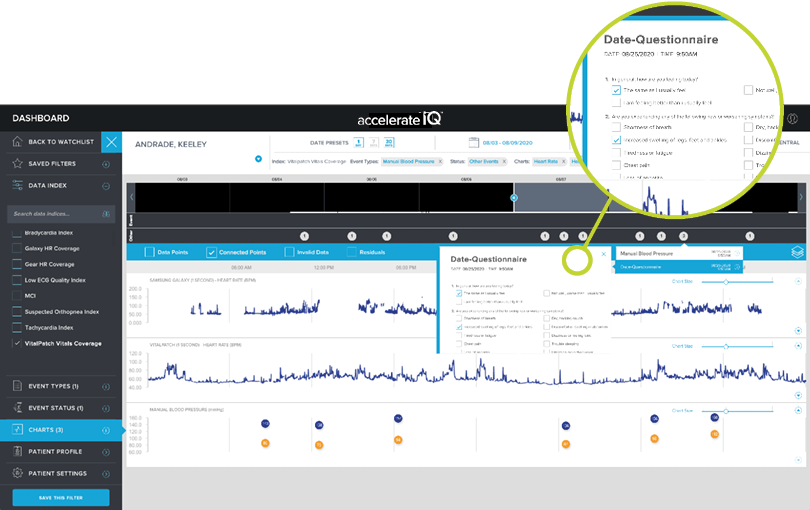 VOICE CAPTURE
Collect and analyze additional data directly from your patients' voice recordings.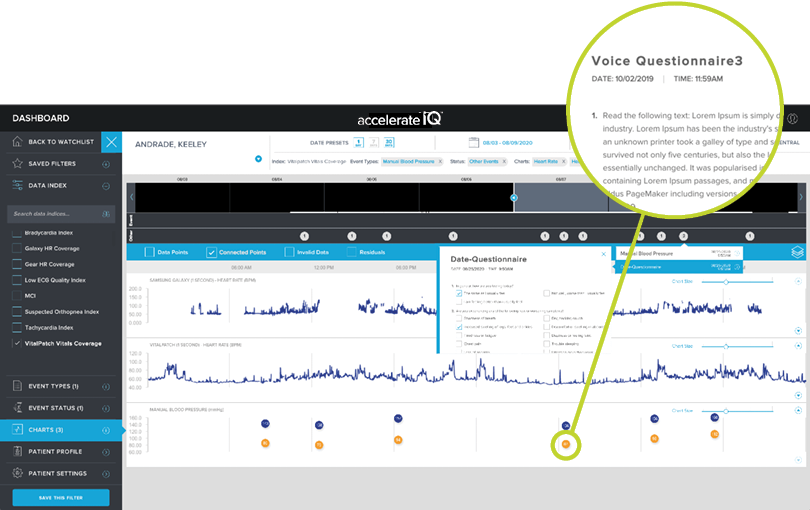 Responsiv
ePro

by physIQ

The first electronic Patient Reported Outcome solution that responds to physiological changes, even changes too subtle for the patient to notice.
Collect Better Data
Conduct Better Trials
accelerateIQ captures high quality, objective data to expand your clinical trial capabilities.
Decentralized Clinical Trials
Decentralized trials have the potential to expand patient pools and obtain more data to make better decisions. accelerateIQ unlocks this potential by providing continuous remote data collection which increases available information while reducing site visits.
Remote Monitoring
The physIQ platform makes monitoring patients in clinical trials an ongoing, continuous process whereby trial monitors can have access to near real-time data and reduce the need for face-to-face interactions.
Risk-Based Monitoring
Risk-based monitoring focuses activities to the evolving areas of greatest need which have the most potential to impact patient safety and data quality. With continuous data from accelerateIQ, you can uncover patient concerns and trial problems in near real time.
Patient Safety & Compliance
By collecting and analyzing physiological data and feeding that into a predictive analytics platform, accelerateIQ can help you anticipate safety concerns rather than react to them.

Advanced Capabilities
Personalized baseline & individualized data
Near real-time data & signal monitoring
Device-agnostic design to collect raw data
Workflows to accommodate complex trial models
Quality-based processes processes to support data sequencing
PHYSIQ'S COMPLETE REMOTE MONITORING SOLUTION
Built on the leading platform for continuous wearable sensor data
Study Setup and Initiation
Everything necessary to bring digital monitoring into your clinical trial
Logistics and Management
physiq handles all the logistics of your digital trial
Device Procurement and Provisioning
Patient and Site Support
PHYSIQ PROVIDES ONGOING SUPPORT TO PATIENTS AND SITES
Site and patient training and ongoing support
Patient compliance monitoring